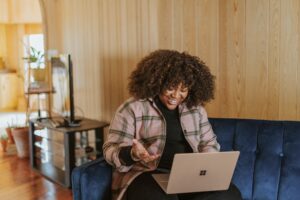 Most of us if asked, can say what we need to do to lead a healthy or healthier lifestyle.  You would probably talk about your sleep quantity and quality, the food you eat, drinking enough water, making sure you exercise and move regularly. You may also talk about taking time to relax your mind and to switch off.  You might talk about doing too much, or not enough. You may consider having good relationships important.
We all have just 168 hours in a week to fit everything in. Choosing well and making sure we can meet our priorities is important. Getting a balance between our capacity and the demand for our time can make a huge impact on our wellbeing and mental health, yet many of us struggle with achieving and maintaining it today.  
During this difficult time of uncertainty, working from home, hybrid and flexible working, we are all susceptible to burnout. Yet given most of us know what to prioritise, we don't. 
Why is that?
It's as though we have been conditioned to put our performance in our many roles to the detriment of our wellbeing. What if we aim for a healthy lifestyle that is sustainable, and which enables us to maintain productivity without a loss of wellbeing. This means the ability to create a healthy relationship between work and private life and to be clear about the priorities in each. Work-life balance can be maintained by putting in place strategies that will allow you to have the right amount of time for both areas, so you do not feel overworked or overwhelmed at either end.  
Unfortunately, we don't usually think about this until we've reached a point where it impacts mental health, downtime, or personal time. 
What can impact a healthy lifestyle?
The foundations include our sleep, how we think which impacts what we do and the choices we make, what and how much we eat and stay hydrated, how much we move and that we have close connections with people we care about. 
Sleep.

We've been learning a lot about sleep and its importance in our lives. 

Tip 1.

Experiment with the quality and quantity of your sleep. Notice what happens as it changes. 

Thinking.

I'd include our mental and emotional capacity here as thinking isn't just done with the mind. Our senses enable us to react and respond too. 

Tip 1.

Monitor the quality of your thinking. Notice when you think well and when you might be overrun by saboteurs. Choose to actively explore how you can think well. 

Tip 2.

Get some additional resources to help you. This may be a coach, a counsellor, a great read full of good tips, sharing with a mate. 

Tip 3

. Know you can take a small step each day and don't need to change everything in one go. 

Eat.

A poor or nutrient-poor diet and a lack of hydration will compromise your overall health and sense of wellbeing.

Tip 1

. With plenty of great advice available free from reputable sources (e.g., NHS website in the UK), take action and change something for the better today. 

Move.

Did you know that despite all the great exercise you might intentionally do, it can be wiped out if the rest of the time you don't move and stay sedentary.

Tip 1

. Every hour move for 5 minutes.

Tip 2

. Pay conscious attention to how much you move versus how much you don't. 

Connect

.

Isolation and loneliness reduce life expectancy. Good relationships with people you care about have a positive impact on our health and wellbeing.

Tip 1.

Pay attention to those you love and who love you.
> Understand what it means for you to have a healthy or healthier lifestyle: Remember that we all have 168 hours in a week. How do you spend yours today? What would be desirable for you?
> Identify the areas that cause you stress and in contrast, identify what brings you joy. It's all about finding balance, so being reflective can help you to see what you need to change to achieve this. Try and spot early triggers and make changes before they take root.
> Set boundaries and stick to them. If during your reflection, you identify you're overpromising your time at work, be honest and set boundaries so you can be realistic with the time you have. If you don't prioritise your own health, remember there are likely to be consequences if you fall over. Set boundaries so you do look after yourself.
For example, saying no when you need to and scheduling crucial time off for when you need it, you need time to replenish and recover from a busy and stressful period! 
> Take breaks throughout the day, even if it's just five minutes. We can easily be caught up and at work then realise the whole afternoon has disappeared. To help you take regular breaks, make use of technology to help manage your time better (calendars, alarms).
Living a healthy lifestyle where you sleep, think, eat, move, and connect well can increase productivity and wellbeing in all aspects of your life. It also helps you to feel empowered, satisfied with your life and more focused at work. This results in lower absenteeism rates, fewer turnovers, and higher levels of engagement with the company or organisation.
It also represents the importance of mental health awareness in the workplace. If you're interested in learning more about the importance of mental health and supporting your colleagues in the workplace, explore my upcoming courses or get in touch!